Description
Garrett Powermax™ direct fit performance air-to-liquid intercooler for the 2015+ BMW M3 and M4 boasts a 47% larger core with dual pass coolant flow to help reduce intake manifold temperatures by an average of 10 °F. Optimized end tanks improve air flow through the core. An average increase of 12.4 horsepower and 4.9 lb-ft of torque were measured during back to back dyno pulls. This direct fit performance intercooler installs in 1.5 hours and reuses the stock bolts, hoses, and clamps.
Features:
• Supports up to 980hp • 47% larger core than stock • Installs in stock location • Cast aluminum end tanks • Air-to-liquid design • Bar-and-plate construction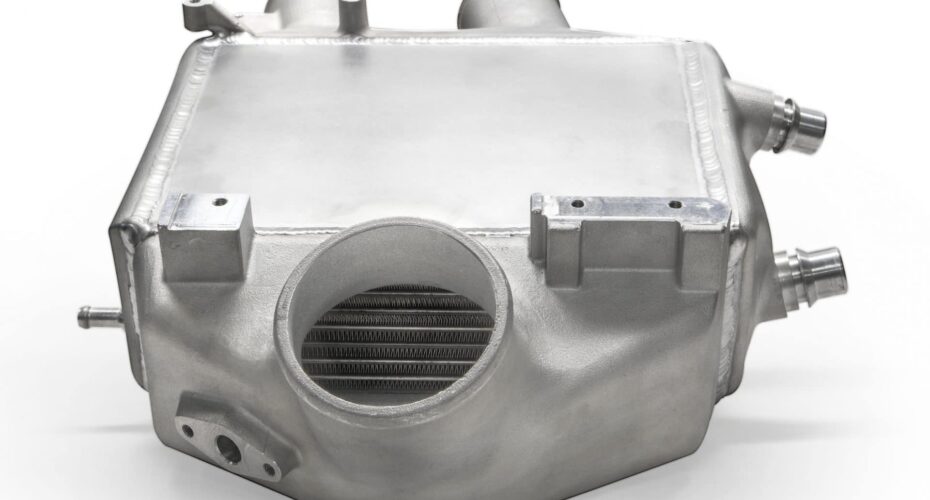 Two Color Options
Flat black finish 888883-6002
Raw aluminum 888883-6001
Performance Dyno Testing
We performed a vehicle dyno test to gather data comparing the OE to Garrett intercooler. Multiple back to back dyno pulls measure intercooler effectiveness by comparing horsepower output, inlet and outlet temps, OBD II data.
Engine gains 12.4 horsepower and 4.9 lb-ft of torque on average after heat soak (10th pull)
Engine gains 18.7 horsepower and 6.4 lb-ft of torque at the 15th pull
OBD II Data
After heat soak, charge air flow rate and pressure increase
~2 lb/min higher charge air flow rate after 10th pull
~1.5 psi higher charge air pressure after the 10th run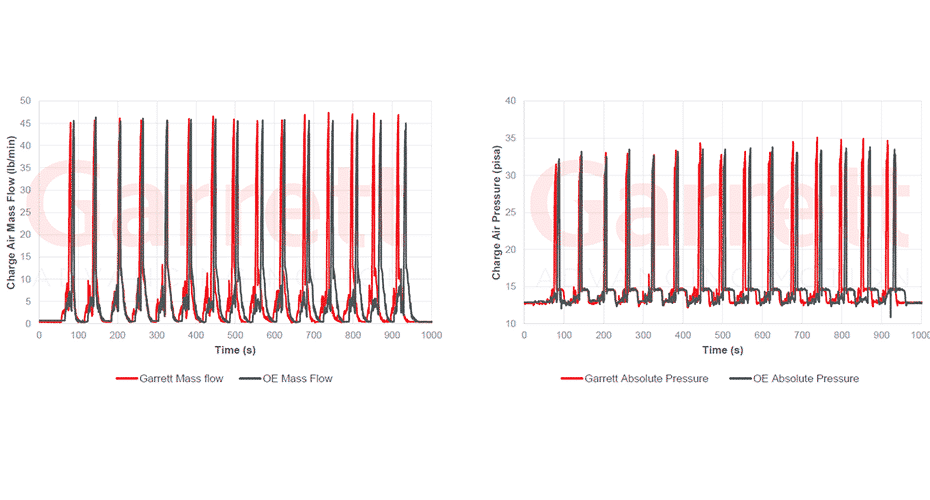 Thermal Data
Garrett intercooler outlet temp is ~5 °F lower each run before heat soak
OE intercooler has 90% instantaneous effectiveness
Garrett intercooler has 92% instantaneous effectiveness
Garrett intercooler outlet temperature is ~10 °F lower after heat soak
At heat soak, outlet temperature drops by 10 °F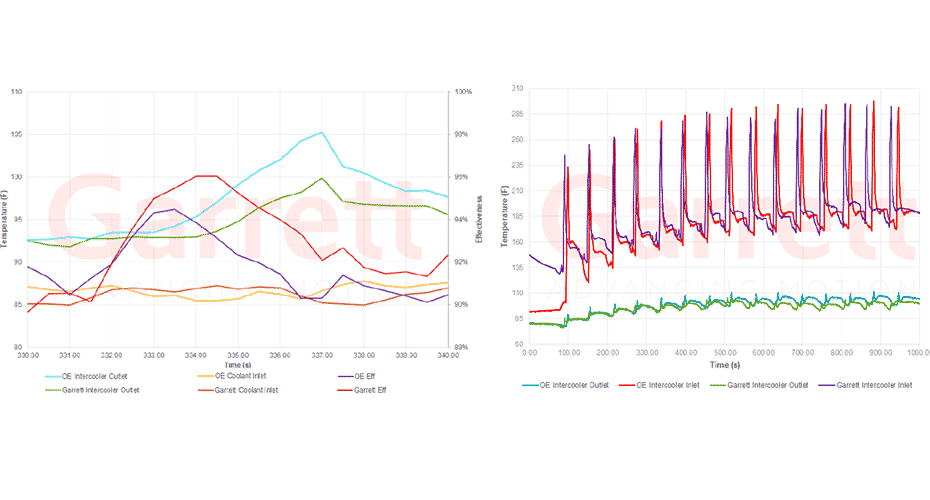 CFD Optimization
CFD optimized design allows Garrett engineers to improve flow distribution through the end tanks
The charge air flow shown in the chart depicts air flow per passage
The variation is ~7% from the mean flow
Heat Transfer Modeling
CFD also helps improve thermal performance